THE NATIONAL COVERS DIFFERENCE
There are many opportunities to cut corners in the manufacturing of Bimini tops. For example, manufacturers could use inexpensive fabric that is not waterproof and will fade in the sun. They could use cheap hardware made with plastic that is susceptible to breaking. The support poles that hold up the Bimini top could be made to an inadequate thickness and feel flimsy and unsupportive.
At National Bimini Tops, we take pride in our products and we will never cut corners in the quality of our manufacturing, which allows us to offer customers the best Bimini Tops that we would feel confident using on our own boats.
Not all Bimini tops are created equal, and here are some examples of how ours exceed expectations in innovation, quality, and craftsmanship.
180 DEGREE SWIVEL MOUNTS
At National Bimini Tops, we only offer innovative products with new and special features that will make our customers happy. Our products include the first of its kind 180 degree swivel mount, enabling customers to attach their Bimini top to the top or side of the boat console. Most Bimini tops come with a standard stationary mount that will only attach to the top of the boat console based on its limited mobility, but our high-quality swivel mounts allow you to attach the Bimini top to the top or side of the console – whatever works best for you. The mounting options are endless!
1" ALUMINUM FRAME
Standard Bimini top frames are 7/8" in thickness, but our frames are constructed from 1" SuperTrude anodized aluminum frames and then finished off with an attractive, shiny polish to match the other hardware on your boat. Not only are our frames built to be bigger in diameter, but the density of the material walls is thicker so you can count on our Bimini tops being more durable and lasting longer than other Bimini tops sold. The aluminum is anodized with a chemical sealant that makes your frame resistant to rust, weather, and scratches.
4 SEWN-IN D RINGS
National Bimini Tops is the only company that sells Bimini tops with four D rings sewn into the four corners of the fabric. This is an important extra feature on the Bimini top because it provides an extra area for boater to hold valuables. Attach our Drybag, privacy room, or anything that hooks.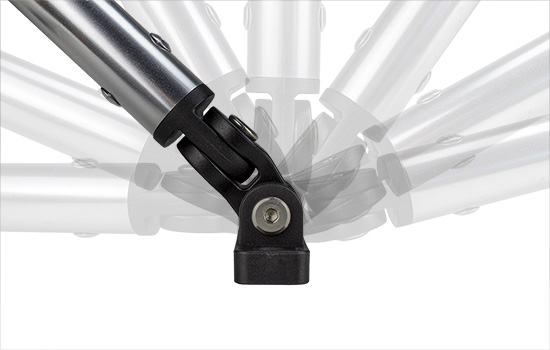 180 Degree Swivel Mounts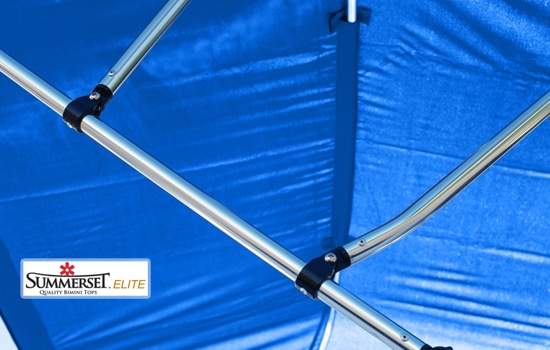 1" Aluminum Frame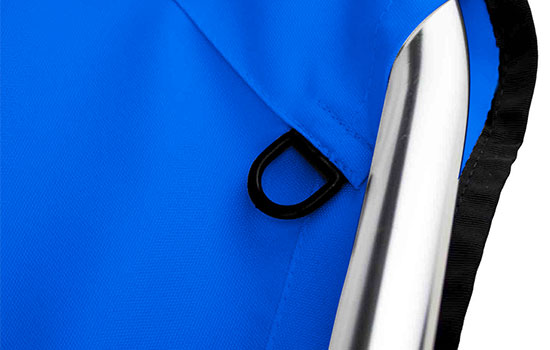 4 Sewn-In D Rings
REAR SUPPORT POLES INCLUDED
Safety should always come first. Some Bimini top companies do not include rear support poles. National Bimini Tops' Summerset and Summerset Elite brands include two rear support poles to ensure that your Bimini top won't fly off when you reach speeds up to 45 mph. The danger of having your Bimini top fly off and hit a water skier or another boat cannot be overlooked, which is why our two additional rear support poles are so important.
FREE STORAGE BOOT
We think of everything to make our products user-friendly. To fold the Bimini up and store it is an easy exercise thanks to the storage boot that we offer for free with the purchase of your Bimini top. Simply close the Bimini and fold the fabric over once, place the boot over the folded material and zip it up underneath. Now your Bimini is not only neatly and compactly stored, but it is also protected from the sun.
SOLUTION-DYED FABRIC
Our Bimini tops are made using solution-dyed fabric, because we believe in the long-term integrity of our products. You may hear the term "solution-dyed" thrown around in descriptions of fabrics, but you may not know what it means or why it is so important. When you hear that a product has solution-dyed fabric, it means that the color is actually added to the liquid state of the fiber components, before the fiber is actually produced. This means that the color is dyed all the way through each individual thread. Therefore, solution-dyed fibers are much more resistant to fading or color bleeding than other fibers. Solution-dyed fiber is a great choice for areas that will be subjected to intense light.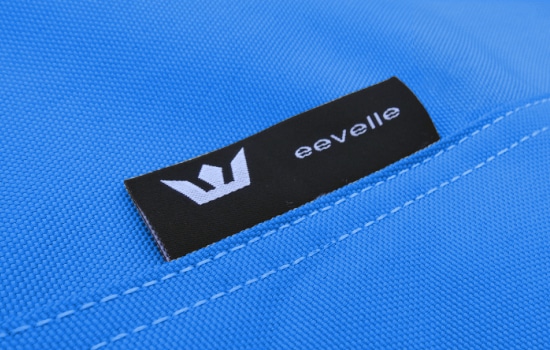 BEST WARRANTY
Because we stand by the materials and craftsmanship of all of our products, it is easy for us to feel confident offering the industry's best warranty program. At National Bimini Tops, we offer up to an 8 year warranty. We beat the competitors' warranty program time after time.

COLORS, COLORS, & MORE COLORS
Many boat owners like to spice up the look of their boat by adding brightly colored Bimini tops. We offer more color selections than our competitors, with vibrant color Bimini tops including Royal Capri Blue, Hunter Green, Sunflower Yellow, and Venetian Red. Our brightly colored Bimini tops are sure to make a big statement while you are cruising the water.
When you think of National Bimini Tops, remember all of the innovations in quality that set us apart from the rest. We want to keep you covered with the best materials that look great, function effectively, and will last through the years.