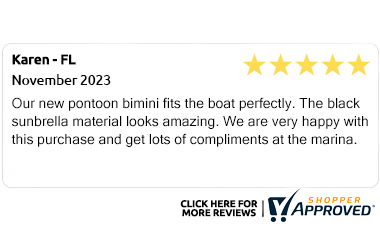 BIMINI TOPS FROM THE EXPERTS
We specialize in getting you the right bimini top boat canopy for your needs. We do this by offering a wide variety of boat canopy options made from the most durable marine grade materials including Marinex and Sunbrella. National Bimini Tops carries industry leading cover brands such as Summerset, Summerset Elite, and NBT house brand. We stock 2 and 3 bow round tube bimini tops and 4 bow square tube biminis all with a focus on durability, long life and style. There is simply no better boat canopy available today.
Please call us if you need help selecting your bimini, our USA based fit experts are happy to help! 800.616.0599
QUALITY BIMINI TOPS
National Bimini Tops is the leader in high quality bimini tops! Buy direct from us for the best selection and unbeatable pricing on your new boat canopy. We carefully select the products we sell to ensure that each and every bimini top we carry will exceed your expectations at National Bimini Tops. No one matches our commitment to premium fabrics and durable construction.
We only carry bimini tops constructed with marine-grade materials to ensure high performance and low maintenance. National Bimini Tops offers the brands you trust most like Summerset and Summerset Elite. Our boat canopy canvas comes in a variety of high quality durable fabrics such as Marinex, Cootech, Sunflair and legendary Sunbrella® marine grade fabric. We pride ourselves in offering only the very best and strongest bimini tops on the market!
Our frames are all 1" thick wall extruded aluminum. Round pole frames are double polished, while square frames are left in a matte finish to match most pontoon boat rails. You cannot go wrong with a new boat canopy from National Bimini Tops.
BIMINI TOP FEATURES
Durable construction meant to last
Water resistant, breathable marine grade fabrics
UV protection from sun damage
Mold and mildew resistant
Will not shrink or stretch
1" thick wall extruded aluminum frames
COMPANY FEATURES
Free nationwide shipping
Ships direct to your door
Live phone and chat support from USA based agents
Fully warranteed products
Easy return policy
Need help deciding which bimini top is right for your boat or pontoon? Contact us today at 800.616.0599 for assistance!
BIMINI TOP BRANDS WE CARRY
SUMMERSET BIMINI TOPS
Summerset offers handmade quality bimini tops constructed of sleek, durable Marinex fabric. Marinex fabric is completely breathable 100% solution dyed polyester, in addition to being UV and mildew resistant. Summerset Bimini Tops are easy to assemble and they are designed to provide shade and reduce glare while on the water. Summerset Bimini Tops are made from the finest quality materials that will withstand the rigors of boating to keep your vessel looking great season after season. Summerset Bimini Tops are available in a variety of colors and they come with a free storage boot! You won't find a better boat canopy for the price.
Solution Dyed Polyester Canvas
Free Easy Fit installation kit
Stainless Steel mounting hardware
Free matching storage boot
Free rear support poles
UV protection from sun damage
Professionally stitched with marine grade anti-wick thread
Will not shrink or stretch
SUMMERSET ELITE BIMINI TOPS
Summerset Elite Bimini Tops are handcrafted with 100% solution dyed acrylic fabric to ensure vibrant and exquisite colors that last. This mildew resistant fabric is custom fitted to sturdy hardware that is easy to install onto any boat. Arcrylic fabric options for Summerset Elite canvas include Sunbrella and Sunflair. Sunbrella® fabric is the #1 fabric choice for boaters and is completely breathable offering the best warranty in the marine industry. Sunflair has the same performance characteristics as Sunbrella, but is available at a more economical price. Summerset Elite Bimini Tops are built to last, providing protection you need year after year. All Summerset Elite Bimini tops also come with a free matching storage boot! This is the best boat canopy available today.
Sunbrella or Sunflair Acrylic Fabric
Free Easy Fit installation kit
Stainless Steel mounting hardware
Free matching storage boot
Free rear support poles
UV protection from sun damage
Professionally stitched with marine grade anti-wick thread
Best warranty in the industry
---