WE HAVE YOUR BIMINI TOP! 
PLEASE SELECT YOUR PREFERED HEIGHT BELOW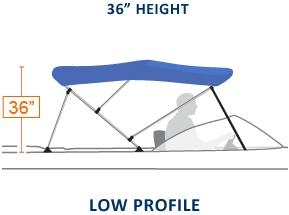 72" LONG, 36" HIGH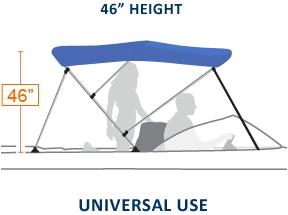 72" LONG, 46" HIGH
BOAT BIMINI TOPS
A bimini top is the perfect addition to any boat whether you're just out on the lake fishing for the afternoon or on a weekend getaway with the entire family. Any one of our fine bimini tops provides protection against harsh UV rays and unexpected rain. This great investment not only makes boating more enjoyable, but it also helps protect the interior of your boat from fading and premature wear.
Adding a new bimini top also provides a bright splash of color that can make your whole boat look like new. This beautiful addition provides protection without losing circulation or obstructing your view. What more could you ask for? It's effective and protective, so you can keep on boating!
HOW TO MEASURE FOR BOAT BIMINI TOP MOUNTING
Carefully consider the size that you need when selecting your bimini top. The mounting point you choose will impact the size of frame you need, the position of the top, and the shade it will provide.
WIDTH: Determine where you want the mounting points to be because this will set the width of the frame. Keep in mind that this will also determine which part of the boat gets shade. It will also set the position of the top when it is folded up and not in use.
LENGTH: After you have chosen the mounting point and determined the width, then the length of the top will determine which part of the boat receives shade and how much coverage is available.
HEIGHT: Consider the primary use of the bimini to select the proper height of the frame. Do you want to be able to stand under it? Fish under it? Measure upward from the selected mounting point while standing on the deck to get a feel for how much room you will have once the bimini is installed.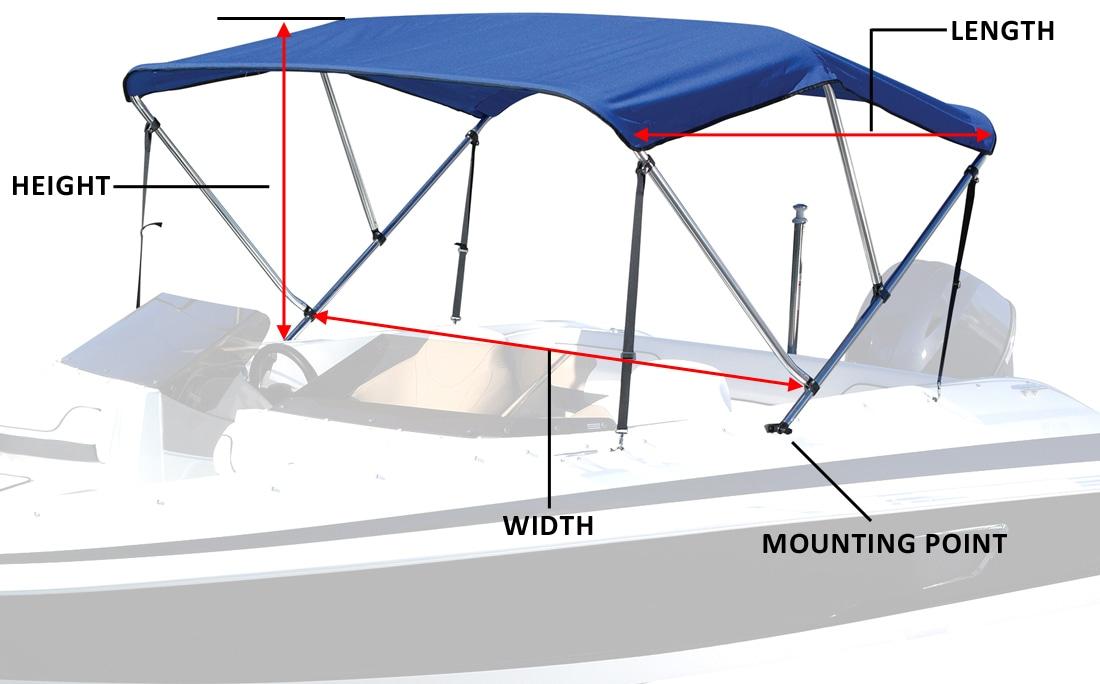 BIMINI TOP FRAMES AND CANVAS SELECTION
National Bimini Tops is pleased to offer a wide variety of bimini top options that are sure to suit your needs.
Boat Bimini frames are available in widths from 54" to 103" and come in a round tube 3 bow style.
We offer three different frame heights to allow you to choose the best top to accommodate your required use: 36" height, 46" height or 54" height.
Canvas tops are available in three different fabrics, including Sunbrella(R).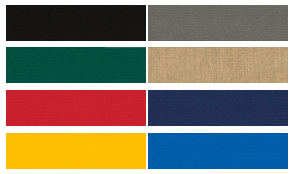 BOAT BIMINI TOP BENEFITS
Provides protection from sun and rain with high quality material
Allows for an open view for all passengers and drivers
It is convenient to put up or down, as well as easy to store
Protects the boat from sun rays, extending the life of the boat's interior
Provides protection while still allowing for great circulation
Easy assembly and storage allows boaters to quickly put the top down if they want to go faster or easily put the top back up if they want to cruise at leisure
While in use rear poles provide superior support for the bimini frame and allows the top to be stored out of the way
COMMON BIMINI TOP SIZES WE CARRY
All of our 3 bow boat biminis are 72" long
Widths vary from 54" to 103"
Heights vary from 36" to 54"