WE HAVE YOUR BIMINI TOP REPLACEMENT CANVAS!
CAREFULLY REVIEW THE MEASUREMENT DIAGRAMS BELOW TO ENSURE A CORRECT FIT. IF YOU NEED ASSISTANCE PLEASE CALL 800.616.0599.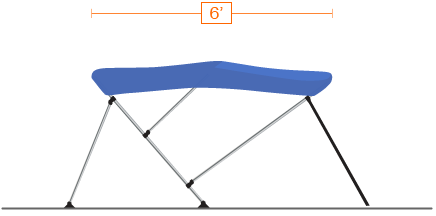 72" LONG - 3 BOW BIMINI CANVAS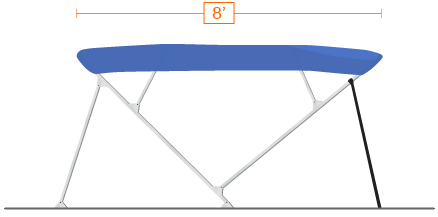 96" LONG - 4 BOW BIMINI CANVAS
BIMINI TOP REPLACEMENT CANVAS
Please refer to the replacement canvas measurement guide below to confirm the style and sizing for your bimini top based on the 3 bow or 4 bow design you may need.
*NOTE: Replacement canvas is specially designed to fit Summerset and National Bimini Top brand frames and may not fit on frames made by other manufacturers.
SELECT BOAT TOP CANVAS BASED ON FRAME STYLE AND SIZE

REPLACEMENT BIMINI TOP CANVAS FABRICS
Solution dyed fabrics made of either polyester or acrylic are the best type of material for marine applications. The yarn is dyed before it is made into solution dyed fabric, which means the color is more vibrant and resists fading much better than fabric that is dyed after being woven. Cheaper boat top canvas is sometimes made of cotton fabric and sewn with standard sewing thread, and this is something customers need to avoid if they want the boat top to last longer than six months.

Our replacement canvas for 4 bow frames comes with zippered sleeves that make it easier to install onto the frame, which is important when replacing the canvas of an existing frame. Coated and sealed polyester is strong against UV rays, which allows it to retain shape and resist stretching. It is the best type of material according to the Boat Owners Association of the United States. Sunbrella(R) marine fabric is featured on our Elite series. It is the most recognized outdoor fabric brand on the market available for both pontoons and boat biminis.