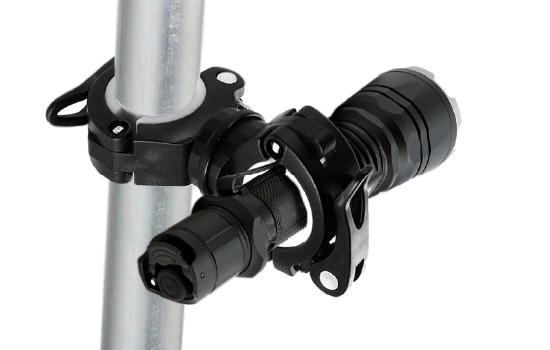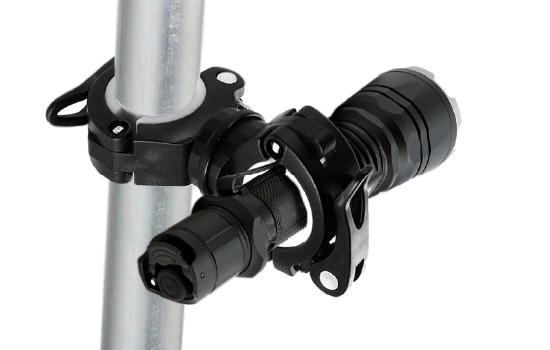 Sample showing flashlight mounted to bimini frame (flashlight not included)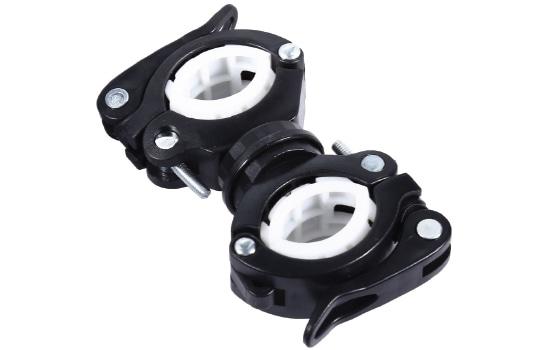 Mount your favorite accessory to the bimini frame with versatile 360 degree bimini frame clips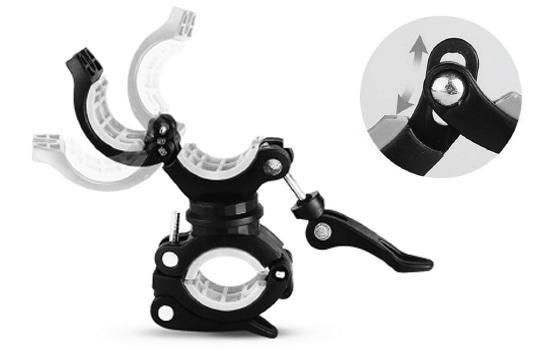 Clips are hinged to accommodate items from ¾ inch to 1 ½ inches in diameter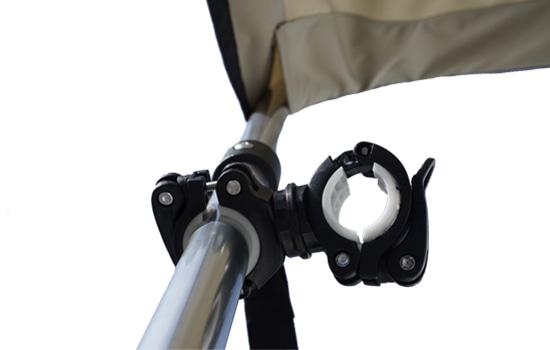 Clips mount quickly and easily to any part of the frame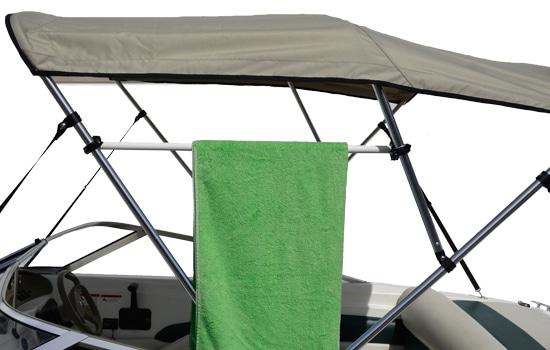 Use 2 to create a temporary towel bar or sunshade
Product Photos

VIDEO

VIDEO
---

SUMMERSET 3 BOW BIMINI ACCESSORY CLIPS
Summerset Bimini Clips are a quick and easy way to add function to your Bimini frame and enjoyment to your day on the water. They are fully adjustable, multi-functional clips that attach anywhere on the Bimini frame. Use the clips to attach accessories such as flashlights or create a towel bar to dry towels.
ROUND FRAME BIMINI CLIP FEATURES
Summerset Bimini Clips have two adjustable clamps; one clamp goes around the round frame of the Bimini, and the other secures your accessory to the pole. A 360 degree hinge in the center allows for maximum flexibility and mounting options. The hinged edge has 3 positions, which allows you to adjust the clamp diameter according to the accessory you are attaching. A quick release lever makes taking the clip on and off simple and easy.
INSTRUCTIONS FOR USE
Designed for one side to clamp around the Bimini frame pole and the other to clamp around your favorite accessory, such as a flashlight
The 360 degree hinge is in the center to achieve desired position of the clamp
To start, flip the quick release lever up and out to open the clamp
Place the clamp around the Bimini frame and close the clamp
The hinge side of the clamp can be adjusted to three different positions to accommodate different diameter objects. Turn the quick release lever to lengthen or shorten the screw accordingly and create a secure fit.
SUMMERSET ACCESSORY CLIPS SPECIFICATIONS
Material: plastic, rubber, metal fittings
Overall dimensions: 4" x 2" x 1"
Clamp Diameter: 7.5" x 1.5"


CAUTION
360° Bimini Clamp Mounts are intended for lightweight accessories (under 1 pound). Consumer should use extreme care not to use the Bimini clips with heavy items or with items that will create stress on the frame when used while the boat is in motion. Improper use of the clamp mounts will void the warranty for the frame and canvas.
OUT OF STOCK
We're Sorry. The item you have selected is currently Out of Stock. Please make an alternate selection. If you need assistance please call 800-616-0599.
The item you have selected is currently Made To Order. Order will be changed into Made To Order.
CUSTOM PRODUCT
PLEASE NOTE: The item you selected is considered a custom product. As such, it is not eligible for a refund once the order has been placed.
If you understand and agree to this condition, and would like to continue with your purchase, click the "Agree" button below.
For assistance, please call 800.616.0599