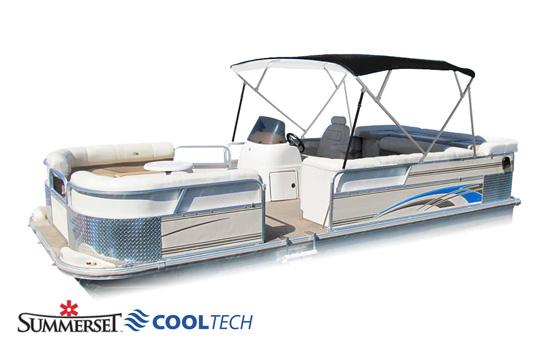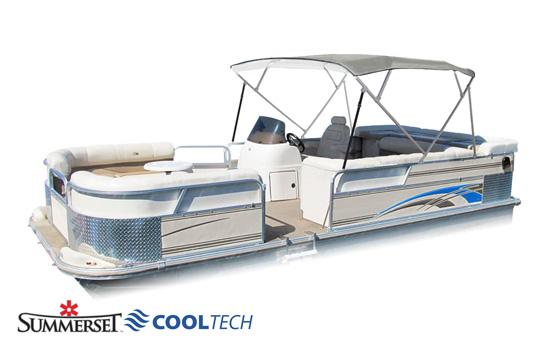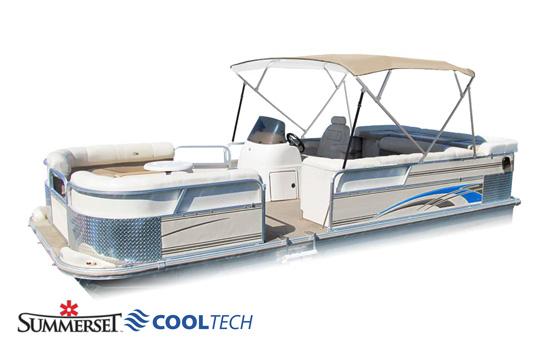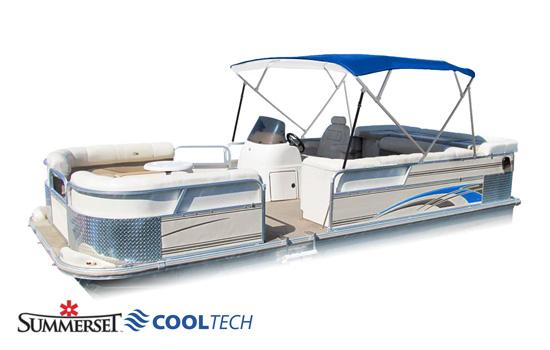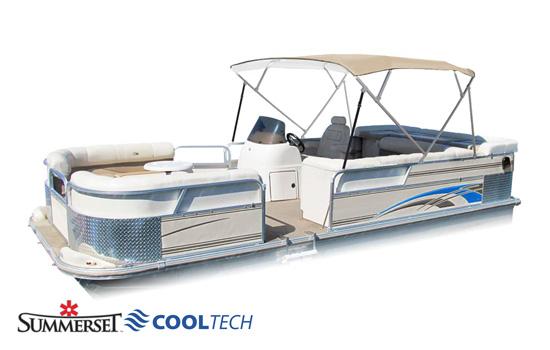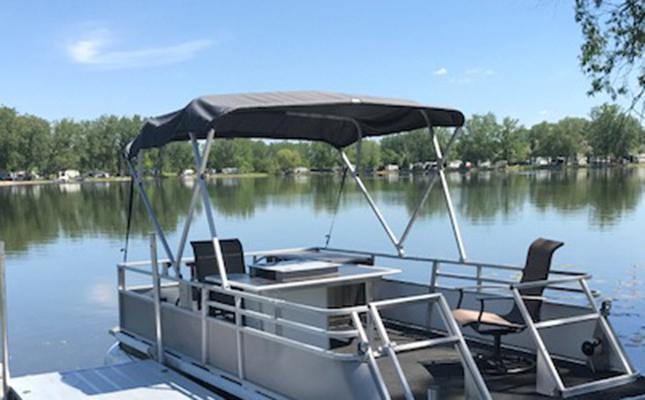 Customer Photo.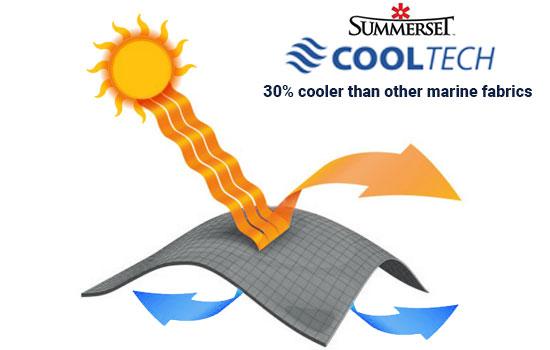 NEW UV resistance technology keeps you 30% cooler than other marine fabrics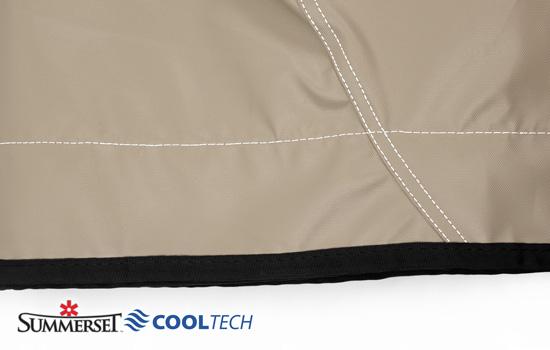 Handmade quality craftsmanship and attention to detail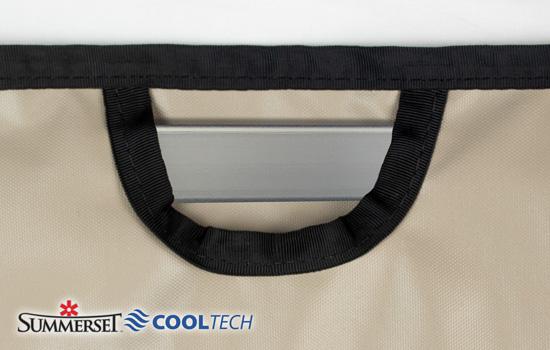 Light cutout conveniently centered on rear bow for easy light mounting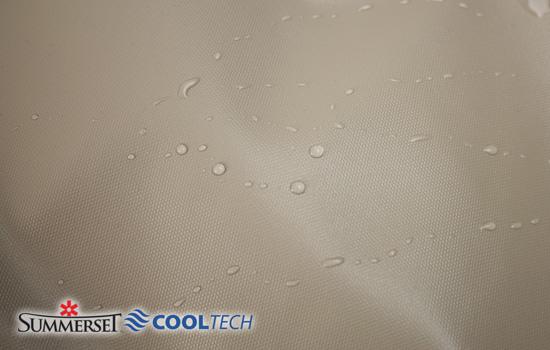 Waterproof CoolTech fabric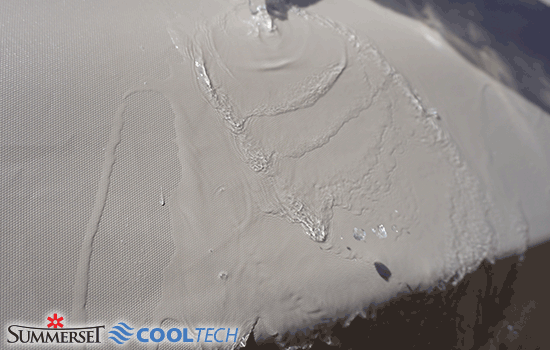 100% waterproof CoolTech fabric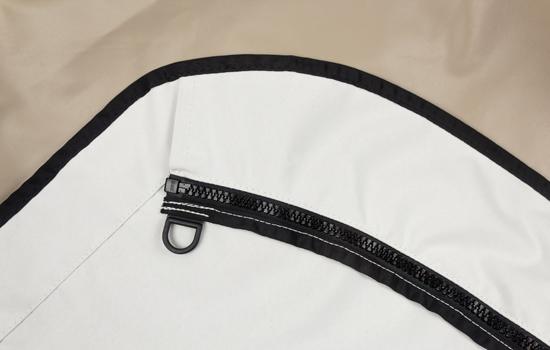 Unique Dual-toned design with vinyl coated top and white polyester underside.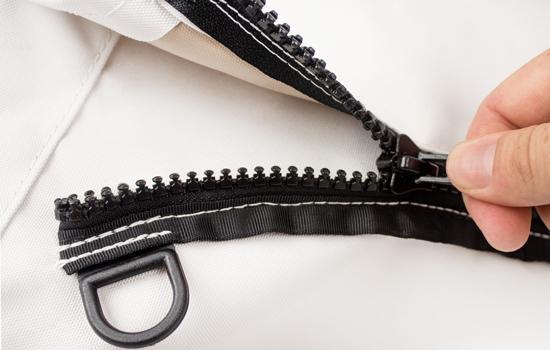 Heavy duty #10 zippers on each sleeve allow for easy install and removal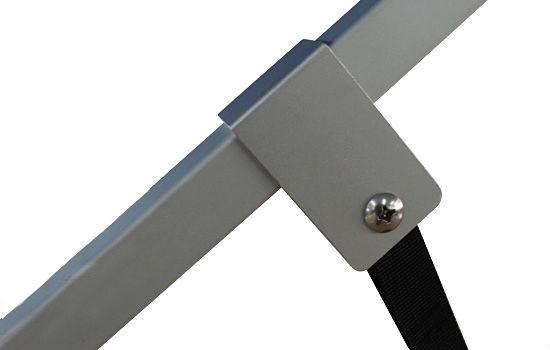 Heavy duty 1" square SuperTrude aluminum frames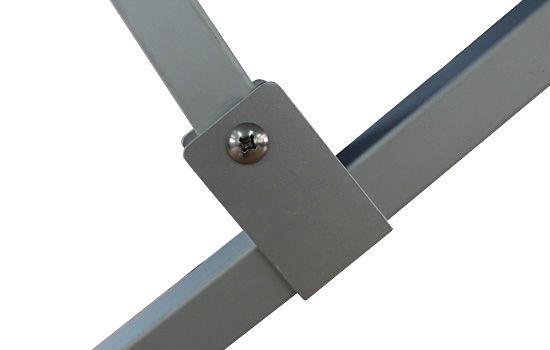 Square tubing and aluminum brackets allow for speeds up to 40 mph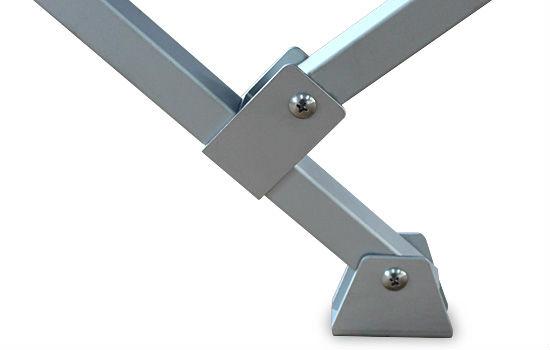 Connection bolts and mounting screws are stainless steel for long life in marine conditions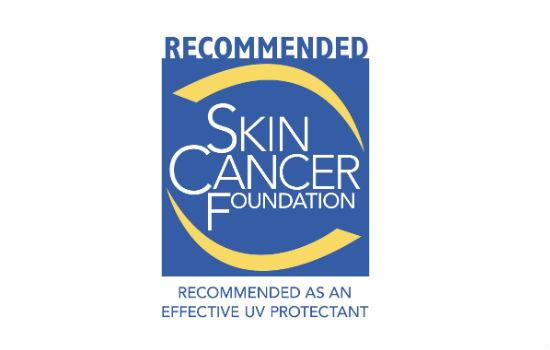 Skin Cancer Foundation Recommended Fabric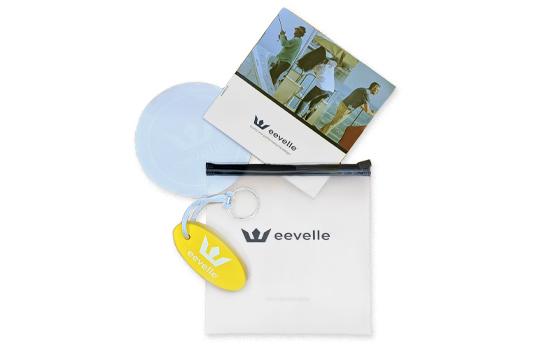 Complementary Eevelle brand kit including keychain, decal and catalog.
Product Photos
---

An investment in a Summerset CoolTech Bimini top featuring Aqualon Edge Fabric is an investment in the best heat and sun protection available in Bimini tops today! Protect yourself from the harshest weather elements for many years to come, so you can enjoy taking the boat out on the water in all seasons.
Summerset CoolTech Bimini tops are designed to satisfy the most discriminating customers. These extremely durable tops are available in five popular colors and sleek designs that keep harsh UV rays away and also add an element of style to the look of your boat. Summerset frames are constructed from 1" SuperTrude aluminum extrusion and offer superior strength, rigidity, and durability compared to standard 7/8" frames. Summerset Bimini tops are easy to assemble, and they are designed to provide shade and reduce glare while on the water
NOW FEATURING NEW IMPROVED MATERIAL! AQUALON EDGE®

Aqualon Edge is the next generation in multi-use, high-quality Bimini top fabric. Powered by cutting-edge Perfecta Marine® technology, Aqualon Edge fabric offers unrivaled heat reduction, heat reflection, and UV resistance to keep surfaces and interior temperatures cooler.
Equipped with Perfecta Marine, a heat reduction technology, the canvas keeps interiors 30% cooler than leading brands. Aqualon Edge resists water, cracking, fading, mildew, rot, and UV rays, which makes it perfect for boat covers and enclosure. From bow to stern, Aqualon Edge marine fabric offers unbeatable coverage and protection that will give boat owners piece of mind that their investment is being properly protected.
SKIN CANCER FOUNDATION

Eighty-six percent of melanoma skin cancer can be attributed to exposure to ultraviolet (UV) radiation from the sun. Summerset CoolTech with Aqualon Edge fabric is 98% effective in blocking UV rays. Its Perfecta Marine technology deflects 30% more UV rays than other fabrics, keeping people sitting under the Summerset CoolTech Bimini tops cooler and protected from UV ray penetration.  
Summerset CoolTech featuring Aqualon Edge:
30% cooler than other double-sided, coated marine fabrics

Outperforms other fabrics in ASTM D4803

26% cooler than solution-dyed marine fabrics



Summerset CoolTech Includes:
FREE Matching Storage Boot

FREE Rear Support Poles

FREE Sewn in D-Ring Accessory Loops

FREE Installation Kit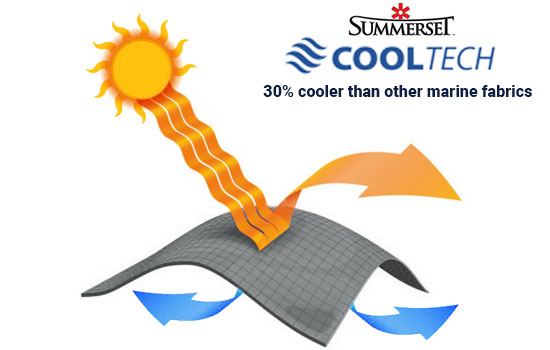 Care and Cleaning Instructions:
Keep dirt, leaves. and other debris from accumulating on the fabric surface. Washing down with a garden hose on a bright sunny day is recommended about once a month.
To remove dirt from either side of the material, use a soft brush and a mild soap solution (such as Ivory). Do not use bleach. Rinse thoroughly with clear water and let dry completely before storing or rolling. (If accidental tears occur, repair them as soon as possible.)
Do not store or roll up while wet. Be sure to clean and dry before storage. Mildew can grow during storage if moisture is present.
Avoid cleaning in a commercial car wash. Do not steam or pressure wash, if used for boat cover, keep cover secure while trailering.
SUMMERSET COOLTECH IN HOUSE EMPLOYEE REVIEW

We already know that the design of our Summerset Biminis is top notch with added features like 180 degree swivel mounts and extra thick hardware. But we are so impressed with the new CoolTech Aqualon Edge fabric that is noticeably high-quality. And what you don't see is that our new fabric actually deflects heat and UV rays so you won't have to get really hot and sunburn while out on your boat. We all love this new Bimini and our customers will too! 
-Happy Shopping from The NBT Team
OUT OF STOCK
We're Sorry. The item you have selected is currently Out of Stock. Please make an alternate selection. If you need assistance please call 800-616-0599.
The item you have selected is currently Made To Order. Order will be changed into Made To Order.
CUSTOM PRODUCT
PLEASE NOTE: The item you selected is considered a custom product. As such, it is not eligible for a refund once the order has been placed.
If you understand and agree to this condition, and would like to continue with your purchase, click the "Agree" button below.
For assistance, please call 800.616.0599