The Privacy Room for Boats
When You Want To Change In Peace
When you are out on the water for a day of boating with friends and there are miles of water surrounding you, it is nice to have a private place to go to change in and out of your bathing suit.
It is cumbersome to try to hold a towel around you as you shimmy your wet bathing suit from the grips of your skin. And if you have children you know that they are often the most modest of us all.
What if you need to use the restroom and it isn't appropriate to go in the water?
There is a clever solution to these precarious situations: a portable Privacy Room. At National Bimini Tops, we are now selling a high-quality, heavy-duty Privacy Room that easily attaches to the poles of your Bimini top. You can have the Privacy Room erected in minutes by Velcro strapping it around your Bimini poles. It is easily folded and stowed when it's not in use.
It is the answer to some of the random problems that arise when you are out on a boat all day. Whether you need the privacy to change, or you want to place a portable potty in there to do your business, a Privacy Room is an easy solution.
The heavy-duty Summerset Bimini Privacy Room is made of 600 Denier solution-dyed marine grade polyester fabric so you can count on its durability. The zippers run floor-to-ceiling down two sides of the Privacy Room for easy access from either side of your boat.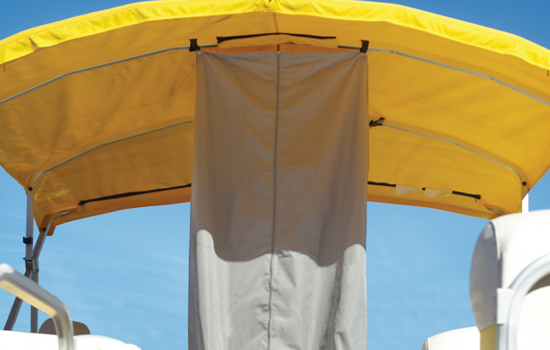 Bimini Privacy Room
A boring Privacy Room won't do, so we offer our newest Privacy Room in 13 vibrant colors. Our reviewers rave about the Privacy Room, saying it is "fast and easy," and they thank us for a "tremendous product."
When installed, the Privacy Room measures 30" wide x 30" deep x 70" tall, and can be used on 3 or 4 bow Bimini tops. The drop down Privacy Room is a safe and easy way to create privacy on a boat when you just can't get to land.